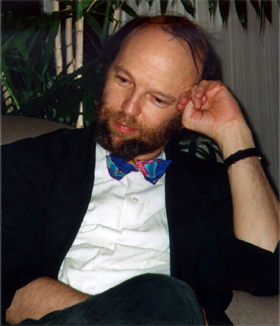 At age 17, James Sellars left his native Arkansas to study composition at Juilliard and Manhattan School of Music, where his principal teachers were David Diamond and Ludmila Ulehla. He later took a Ph.D. at North Texas University, and presently divides his time between New York and Hartford, where he is on the composition-theory faculty at The Hartt School.
Major works by James Sellars include Return of the Comet, commissioned by the London ensemble, Spectrum. Chanson Dada, directed by Peter Sellars at the Monadnock Festival with James Bolle conducting and subsequently produced by Lukas Foss with singer-actor Isabelle Ganz at the Brooklyn Academy of Music, most recently opened the 1998 International Music Festival in Alicante, Spain. Sellars's theater piece, For Love of the Double Bass, has been performed to great acclaim at the Helsinki and Huddersfield Festivals. Beulah in Chicago, part of the 1991 Bergen Festival in Norway, has since been recorded by opera and Broadway baritone Spiro Malas. Sellars's Radio Sonata, featuring bassist Robert Black, was released on CD in 1994. Kissing Songs, a 1996 commission by the New York Festival of Song, was premiered at the 92nd Street Y, subsequently performed at the Moab Music Festival, and later recorded by the English Chamber Choir, Guy Protheroe conducting. Stay With Me, for six dancing doublebass players, choreographed by Yoshiko Chuma, was first performed in 1998 by the School of Hard Knocks in New York City. The Sellars opera, The World is Round, directed by Juanita Rockwell and conducted by Michael Barrett, received 15 performances in 1993 at Hartford's Wadsworth Atheneum, and most recently, a CD of seven piano works, performed by seven cutting-edge pianists from around the world, was released by C.R.I.
Sellars's latest compositions include Don't Stop, written for the Bang On A Can All-Stars and premiered at Lincoln Center, May 1996, and Afterwards for orchestra, was premiered the same year by the New Hampshire Symphony Orchestra. In May 1998, The California EAR Unit introduced his ensemble work, GO!, at the Los Angeles County Museum of Art, and in September 2000 the Lions Gate Trio gave the premiere of his Piano Trio. In progress is The Turing Opera, a high-tech stage piece with a libretto by poet Thomas Meyer, based on the life of English mathematician Alan Turing. Recently, virtuosoi Carrie Hoffman and John MacDonald premiered his Sonata for Alto Saxophone and Piano. Hog River Music released a "living room" recording of the Sax Sonata, a CD of Sellars' foray into electronic music, and a new publication of The Piano Book.